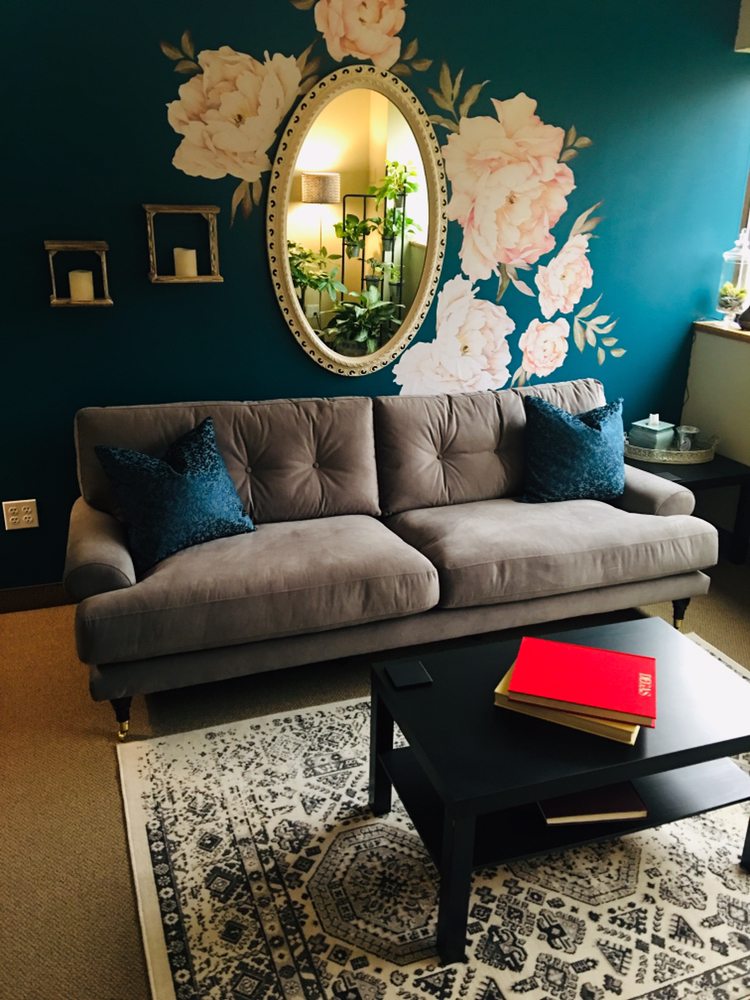 Holistic Life Coaching/Intuitive Consulting
Jessica believes that talking can be as powerful a source of healing as Reiki, which is why she has added a certification from Erickson International for Life Coaching to her established skills as an intuitive consultant. The words, thoughts, and patterns that run through our minds play a huge part in our actions and reactions, affecting the stability of our lives, bodies, and energy systems. When we say we can feel stress building up in different parts of our bodies, that is often proven completely true, while healing pain, stiffness, and other physical symptoms during a healing session on the Reiki table. Sometimes you just need to get advice for the worries in your life before they get the chance to take over your mind, or you need someone to help turn the problems troubling you from sources of pain and stress into useful, accessible goals. If you're interested, here are some short descriptions of what life coaching and intuitive consulting are and what each one can do for you.
Unlike a psychologist or a counselor, life coaches do not look at your past history to find explanations for your current problems. Instead, life coaches look at your current problems and plan for a future that is within the capabilities of a client, giving insights you need to create your own action plan for the next phase of your life. Another important difference between life coaching and other therapeutic practices is that a life coach remains unbiased through the entire session. They are not here to give you our opinion on the subject at hand, tell you what decisions to make, or make judgments based on whatever you choose to share during a session; the focus is on helping you plan a step-by-step path to your goals and dreams. If you'd like more information on life coaching in general, please visit the International Coach Federation at http://www.coachfederation.org.
Intuitive consulting is the currently popular term for consulting an intuitive. Because of Jessica's natural gifts, along with her years of training, she is often able to see and hear things that are related to your concerns or spot etherical baggage that you might be carrying. Through her intuition, she can give you a deep and objective look into your condition, helping you untangle the influences behind any chronic problems that keep interrupting your life. After telling you the thoughts and feelings she can see within your situation, she will work with you to interpret them, helping you analyze your actions and associations and discover ways that you can work toward a happier life. The use of angel/tarot cards can be requested for this service.
Either one of these options can be done separately from a Reiki healing session, or you can ask Jessica to combine the two forms of healing into one appointment. If an in-person appointment doesn't fit your busy schedule, Jessica can also offer you life coaching and intuitive consulting over the phone; just call or send her a message before your session so you can work out the details.
Can be done in combination with Reiki.
Can also be done over the phone, FaceTime or through Skype.
If you're interested in scheduling your complimentary 45-Minute Connection Call for HOLISTIC LIFE COACHING, please click the BOOK NOW button (upper left corner) and Read & Fill Out The WELCOME PACKET, before your scheduled appointment. Appointments are scheduled in Central Time Zone.
Single Sessions and Packages
$75
In-Person, Skype, FaceTime Video Session (Single Session)
Purchase 1/2 hour (30 minutes) session.
Schedule a session within Jessica's availability.
$150
In-Person, Skype, FaceTime Video Session (Single Session)
Purchase an hour (60 minutes) session.
Schedule a session within Jessica's availability.
Monthly Life Coaching Packages
$250/Month
The Essentials
The most popular package! Chat with Jessica bi-weekly to unwind, meet goals, master self-acceptance and maintain momentum throughout your self-discovery journey.
2 (60 minutes) In-Person or Skype, FaceTime video sessions.
$500/Month
The Makeover
If you are tired of living in the same old patterns and feel fed up with your typical way of life, then you need this plan. Schedule hour-long weekly sessions. In-person, Skype or FaceTime!
4 (60 minutes) In-Person or Skype, FaceTime video sessions
$600/Month
Your Destiny
If your looking to dive a little deeper, and are interested in Holistic Life Coaching + Reiki. This package is for you!! Receive hour-long weekly Life Coaching sessions plus 30 minutes of a Reiki Healing. Excellent for people looking to add an additional holistic element.
( 4 ) 1 1/2 Hr. sessions
$800/Month
Awakening
Are you ready to commit to your happiness and wellness? This package includes hour-long weekly Holistic Life Coaching PLUS hour-long weekly Reiki sessions. If you're ready to unblock barriers and start feeling like you again, this is for YOU!
( 4 ) 2 Hour sessions (1 Hour Holistic Life Coaching + 1 Hour Reiki)
Crystal Healing
Did you know that although crystals are considered solids, they emit a vibrational frequency? Just like humans, crystals actually emit an electromagnetic field because of this vibration that can interact with ours. They are extremely versatile when it comes to calming or activating our human energy systems and healing areas in our bodies that we might not otherwise be able to get to. It's no wonder that throughout history, shamans and priests have always used the power of crystals in ritual and healing. Even the Roman's believed that grinding Amethyst crystals and drinking it prevented poisons from seeping into your system.
In this particular service, Jessica will ask you a series of questions as to what you would like to achieve or feel in the moment. From there, she will use her intuitive skills and her vast knowledge of crystals to choose a selection that will help you achieve this goal. May it be, getting through a creative blockage in the mind and body, healing cancer, getting over insomnia, allowing your voice to be heard, protecting yourself from negative energy, you name it. Crystals can help you achieve that vibrational frequency that you need to operate on in order to get your highest efficiency.
Once the crystals have been selected, Jessica will place them on your appropriate chakra points along your body. Jessica will then hold the space for you as the crystals resonate along your energy system.
You can choose to either have a 30-minute session or a 60-minute session.
When the session is done, Jessica can write down for you the different crystals that she had chosen for you, or recommend other crystals that you might like to try next time.
Please note:
Jessica takes extreme care when it comes to cleansing her crystals before using them on clients. Each crystal is meditated with, cleansed with sunlight, and is infused with Reiki energy.
30 Minute Session // $50
60 Minute Session // $100
ENERGY WORK
Reiki
Reiki is a deeply relaxing gentle touch/non-touch therapy that ignites the flow of energy of the healing power of the universe into the body and consciousness. It is meant to clear internal energy systems and allow the possibility for a person to heal from within. During a Reiki session, Jessica lightly places her hands on approximately twelve positions of the body depending on the intention desired for the session. Because Reiki is essentially the flow of the universe's energy, it is not assigned to any religion, culture, or belief system. The energy of the universe simply exists.
If you suffer from any of the conditions below, Reiki can help

Pain Control
Anxiety Reduction
Pre/post Surgical Procedures
Depression
Headache/Migraine
Multiple Sclerosis
Autoimmune Disorders
Wound and Fracture Healing
Cancer
PMS
Back and Neck Pain
Infertility Issues
Arthritis
Disease Prevention
Rehabilitation
General Well Being
Spiritual Enhancement
PTSD
A Reiki session simply requires that you be present in the moment. Jessica will ask if there is something specific that you would like her to work on, though you need not have anything particular in mind.
After you have settled into a comfortable sitting or lying position, Jessica will apply Reiki energy over your whole body. The practice focuses on your major Chakras to ensure that they are open and swirling with healthy energy. Jessica can then address any specific areas of need, whether they be mental, physical, or spiritual.
Everyone's experience of Reiki is different. Some feel immediate relief while others will recognize relief with time. Some experience a warm sensation, others see images or colors, and others still find that they recall long-forgotten memories. Some even fall asleep, which is perfectly acceptable, as sleep is the body's natural time for healing itself.
Ultimately, there is no right or wrong way to experience Reiki. You need only keep an open heart and mind. Jessica will take care of the rest.
Each Reiki session with Jessica is usually 1 hour long. The hour will be spent working with the client on the massage table.
A 60 minute Reiki session works on core issues, allowing for thoughts, emotions, or beliefs that are negatively serving or holding you back (often described as baggage) to be released. Sometimes these issues are deeply embedded and require multiple treatments while other times the client gets off of the table with a new vibrancy and celebration for life.
30 Minutes $90 NOW $50
60 Minutes $130 NOW $100
$100 per 1 hour Reiki Session
$200 with an extra hour of Life Coaching/Intuitive Counseling
(2 hour appointment)
Reiki Massage
This Heaven-sent treatment combines the use of aromatherapy, gentle relaxing Swedish Massage, and Reiki healing. Therapist channels healing energy into your body to clear energy blockages and realign the energy flow. Flawlessly integrated session of flowing Swedish Massage blended with focused Reiki positions that will leave you feeling as though you've drifted off into a cloud of peace. An Essential oil blend is used during the massage, along with soothing warm Towels and Hot Stones to enhance the aromatherapy experience.
60 Minutes $160 NOW $145
90 Minutes $185 NOW $175
What to expect in a session?
When you arrive, Jessica will greet you and ask you to fill out an intake form. She will ask you some questions related to what you would like to focus on during the session and then bring you to the therapy room. There will be a massage table with freshly washed sheets, some soft music playing and some crystals. You will be expected to be on the massage table for an hour so please keep this in mind and wear something comfortable. There will be a blanket over you.
Once the healing begins, Jessica's hands will feel warm and will start floating over your body. If you do not want to be touched, just tell her at the beginning of the session. Jessica rarely touches on the first session with a new client. If she feels drawn to do so, she will always let you know first so you are not surprised. An energy session is usually described as a sensory experience and you might find your body warming or cooling, twitching or start seeing colors. All of this is normal and should be a relaxing experience.
ANGEL/TAROT CARD READINGS
Readings done by phone.
Basic Card Reading
Get your cards read by Jessica. Come with a nagging question, or get a quick check-in with the Universe. 15 Minutes. For more than one question, get a full or deep reading.
15 Minutes // $35
Full Intuitive Reading
Cards read by Jessica. Come with a burning question or two, or explore a general topic such as love, career or life path. Service is for one person. 30 Minutes.
30 Minutes // $65
Focused Intuitive Reading
Zoom in on one more questions, and get the details, options, and opportunities in detail for your situation. This is a great length for complicated subject or relationships. 45 Minutes.
45 Minutes // $93
Deep Intuitive Reading
Get your cards read by Jessica. Come with all your questions, or explore general topics such as love, career, or life path. Deep readings can explore multiple subjects, situations, and choices. 60 Minutes.
60 Minutes // $120
HOLISTIC MASSAGE/BODYWORK
Do you feel disconnected from your body?
Does it feel stiff and cramped?
Do you feel like you have been walking around for too long with that headache? Do you notice your shoulders don't move anymore?
Or do you feel unbalanced?
I am here for you!
My sessions are Holistic. Connecting body, mind and spirit.
Using breathing techniques hot stones and stretches. Adjusting massage techniques to your needs. To stimulate your body to relieve blockages. Relieving things that don't serve you any longer. So you feel reconnected with your inner peace and strength...and back to your beautiful Sacred Root.
A Grandmother born in Thailand and my Father born in Bali gave me a huge knowledge of this Art of Healing. Working on the energy lines with acupressure and stretches. Removing blocks, so your body can flow again. There's deep wisdom in these massages, it's more than only on a physical level. It stimulates your body, your soul and your mind. Creating space for the energy to flow.
Try CBD at Sacred Roots Holistic Massage with (Organic) Mary's Nutritionals!
Signature Holistic Massage
This session is customized to meet your therapeutic needs and can include a combination of the following techniques: Swedish Massage/Relaxation Massage, Reiki, Medicupping/Cupping.
Hot Stones and Warm Towels included.
60 Minutes // $100
90 Minutes // $150
120 Minutes // $200
CBD Spa Treatment
One of the newest items on the menu at Sacred Roots Holistic Massage is the CBD Spa Treatment. The massage therapist starts the treatment by applying a balm made with activated hemp extract to areas of concern, like a stiff neck or achy shoulders. It creates a tingly, soothing feeling, similar to Tiger Balm. You'll then get a 50, 75, or 90 minute rejuvenating massage with hemp-based massage oil AND 10 MINUTES OF CUPPING.
60 Minutes // $380 NOW $100
90 Minutes // $684 NOW $150
2 Hours // $873 NOW $200

Mini Treatment
Stress Buster Massage
(Head, Neck, Back, and Shoulders)
Need some extra attention to those areas that hold on to stress the most? This massage is customized to focus on just those areas. Focused time in your massage will knead away the stress and release the trigger points in the shoulders. A relaxing Swedish massage is then done on neck, back, and head. You will leave feeling renewed and refreshed with shoulders relaxed and an open heart. (This is not a full body massage.)

45 Minutes // $75

BRANCH OF WELLNESS
MASSAGE MEMBERSHIP

$85/Month includes:
* One 60 minute Holistic Signature OR CBD Massage per month
* Additional 60 minute Holistic Signature OR CBD Massage within the month for $75 (Reg. $100)
* 90 minute Holistic Signature OR CBD Massage upgrade for an additional $45

$130 a Month includes:
* One 90 minute Holistic Signature OR CBD Massage per month
* Additional 90 minute Holistic Signature OR CBD Massage within the month for $120 (Reg. $150)
* 120 minute (2 hour) Holistic Signature OR CBD Massage upgrade for an additional $70

$175 a Month includes: BEST DEAL
* One 120 minute (2 hour) Holistic Signature OR CBD Massage per month
* Additional 120 minute Holistic Signature OR CBD Massage within the month for $165 (Reg. $200)
BONUS
* FREE 60 MINUTE MASSAGE FOR EVERY REFERRAL THAT BECOMES MEMBER
* PRIORITY APPOINTMENTS FOR MEMBERS
* RECEIVE THREE $75 ONE HOUR MASSAGE REFERRAL RATE CARDS